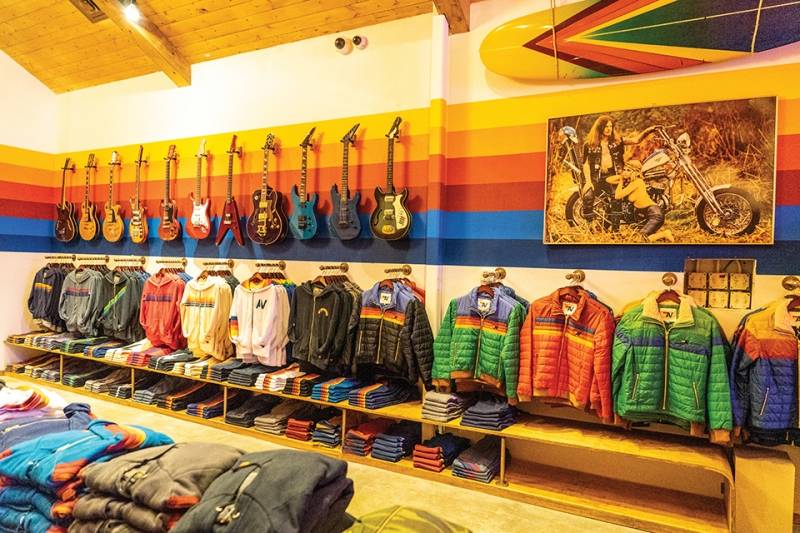 Fit Magainze // BY Kat Barclay
Wearing checkered Vans, rainbow leggings and a vintage t-shirt top, Paige Mycoskie, founder of the California lifestyle brand Aviator Nation, is busy finishing painting a mural inside the brand's new shop at 1325 South Congress.
She has long, blonde, wavy hair and epitomizes the laid-back California lifestyle of the 1970s, just like the clothes she makes for Aviator Nation.
Mycoskie started the business in her garage in Venice Beach in 2006, but she never made the clothes with the intention of starting a brand. Mycoskie originally made the clothes for herself.
"I was obsessed with vintage t-shirts and sweats — I lived in them," Mycoskie says. "I was really picky on the softness. I would sort through the racks feeling all the clothes. Then I'd look for graphics that had cool energy. Then I had to worry about the fit. It was really difficult to find so I said 'screw it. I'm just going to learn to make it myself.'"
She found a fabric she liked, washed it until it had a distressed look and fit her desired level of softness, and drew a pattern for the clothing. She bought herself a sewing machine and figured out how to use it.
She didn't know how to screen print, so she taught herself to sew and sewed on fabric rainbows, suns or surfers to the clothing items. A technique called appliqué, though she didn't know the term at the time.
"I started getting stopped like five times a day with people asking me where I got my clothes from," Mycoskie says. "I was working three jobs at the time so I decided to start selling the clothes."
Aviator Nation sells hoodies, t-shirts, hats, leggings, shorts and bathing suits for both men and women. All the clothes stay true to the 70s vintage, laid back surfer style. They also started a line of surfboards as well.  
Though the team is much larger than one person now, everything is still handmade in the U.S. and each piece has its own uniqueness to it.
Aviator Nation isn't exactly new to Austin though. The brand collaborated with Austin City Limits musical festival for the last six years.
In 2012, Aviator Nation commemorated the festival with t-shirts with a Texas colored signature rainbow with the words Austin City Limits and Aviator Nation logo. Mycoskie gave these shirts to the artists that year.
"I wasn't selling them. I was just giving them to the artists," Mycoskie says. "Some of the musicians wore them on stage and people started asking where they could buy them."
In 2013 the official collaboration began and Aviator Nation continues to curate merchandise for the festival each year, as well as host a pop up shop inside the festival.
"I've been to a lot of music festivals and ACL is still my favorite — something about it just feels homey," she says.
The new Austin storefront sits in the spot previously occupied by American Apparel and now is painted in blue with a rainbow stripe. Inside, the store is decked out with vintage posters and colorful hand painted murals. There is also a large stage, pool table and Pac Man arcade machine available for patrons to hang out and listen to live music while shopping. There is also a large rooftop area for hanging out outside.
With the timely opening being just before ACL weekend one, the store hosted several post-festival live music performances on their full-size stage throughout the festival.
"My goal was to have it open before ACL," Mycoskie says. "It's kind of serendipitous that it's actually right before it — Which is perfect because I'm here already."