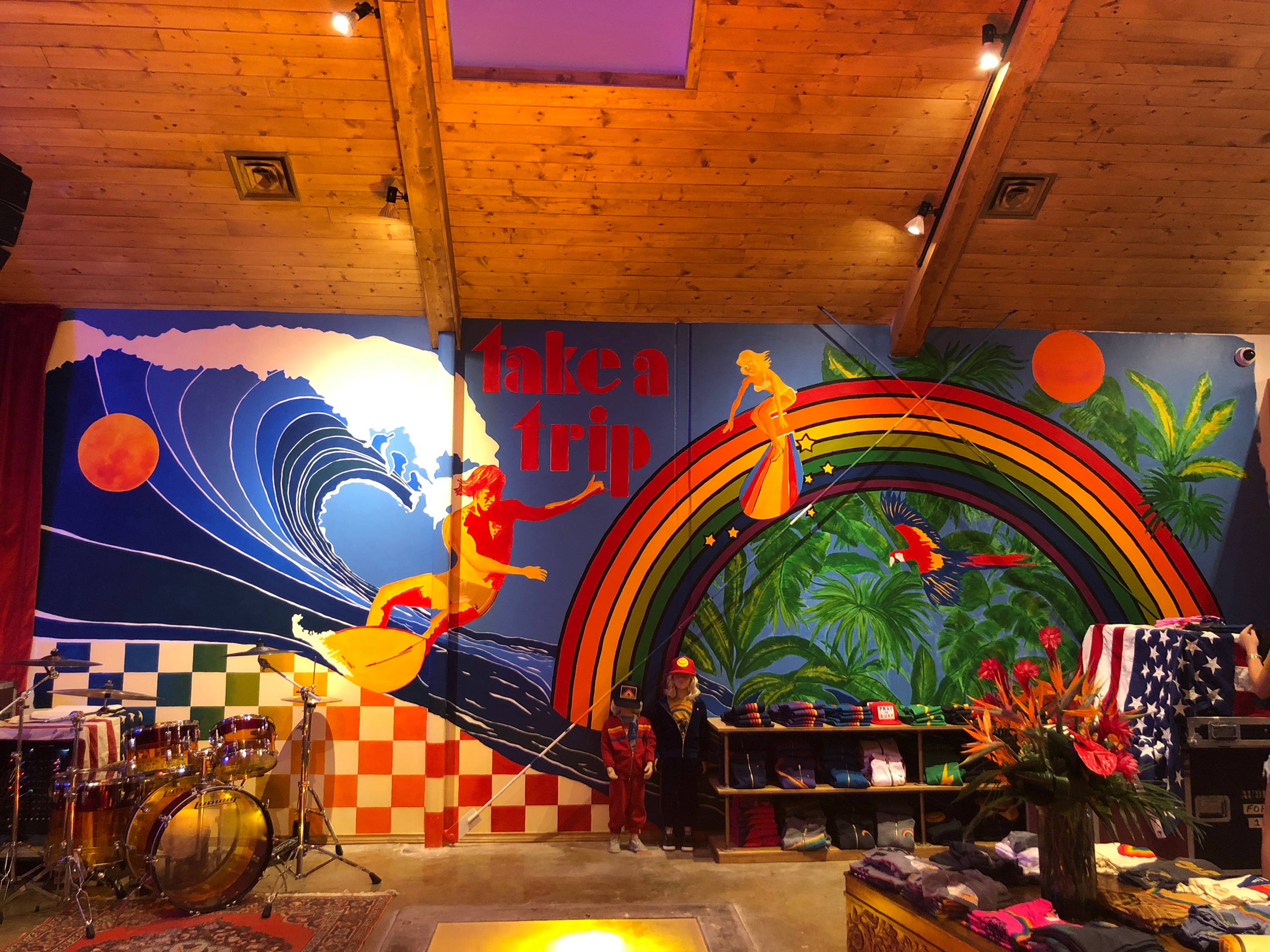 Q&A: Owner of Cali Clothing Brand Aviator Nation on Opening First Texas Locatoin
Verge Campus // By: Julia Streller
70's inspired California clothing brand Aviator Nation opened in Austin this Thursday. Each piece comes handmade with signature colors yellow, orange and red, altogether inspired by owner Paige Mycoskie's old school obsessions.
The colorful mural of a mysterious beach goddess stands out as one of the most unique qualities in the new South Congress store. Paige joins her brother Blake, creator of TOMS, whose SOCO store is just a block away. The doors of AV's first Texas location opened Thursday, adding the perfect seventies flare to one of Austin's most famous streets. Among other notable qualities (let alone the comfy-cool clothes) in Aviator Nation's spacious new location, you can't help but get lost in the comprehensive collection of rock n roll vinyl that adorns the back wall of the store, watching over a freshly built stage.
Wilderado blessed the new venue at the opening party Wednesday night. Tito's, happy vibes and rock n roll flowed, as Paige cemented her place in the Austin music community, declaring opening night as the first of many shows.
AV arrived in Austin just in time for ACL, but they certainly aren't the new kids on the scene. For the past six years, Paige and AV have hosted an artist teepee, where bands hang and play impromptu sets, keeping the 70s festival community spirit alive and well in the twenty-first century.
I sat down with Paige on Tuesday afternoon, just before they rolled out oriental rugs, hung vintage posters, and added the last velvet chairs to what I think is the coolest store on South Congress. Read our Q&A below.
Julia: Aviator Nation is obviously really grounded in music, and it's inspired the vibe of everything. What are you bringing to this Austin store that's not present at the other stores?
Paige: The Austin store is definitely different. It's much bigger than the other stores. It's 3300 square feet, which is really huge. I put in a sound system, which is absolutely state of the art. The best sound speakers you can get. I really didn't hold back there. We'll have all the equipment, we'll have a drum kit, we'll have guitars. So artists can literally roll off the street, plug in and boom—here's a show. I want to support the local artists and the new artists that can't afford to get all the equipment, so if we meet someone that wants to come over and play and see what it sounds like on an amazing sound system, I love that I'll be able to give that to people.
Each store is totally unique. I'm choosing vintage wallpaper that I literally bought all there was. So no one will see the sailboat wallpaper that's on the cash register unless they're here, or they maybe had it in their grandparent's bedroom. But there's lots of wall paper and stuff like that that you just can't recreate, that comes from a past time. I'm also doing a lot of cool Austin gear that's specific to this location. So people will have a reason to come here because they can't get that anywhere else.
J: You're joining a cool trend of DIY venues that are popping up around Austin. They're all pretty grungy though, you've definitely got the coolest one. Have you tapped into the local music scene at all?
P: I've attended some shows, but I'm just barely getting into it. It's almost like you roll into any place, and it's always something great, which I love. Austin is just surrounded by talented musicians. I'm hoping that word spreads and the artists start coming over here and they wanna play. The best way to get to know the Austin music scene is to be able to host it.
J: AV is in some historically hippie locations like the flagship store in Haight Ashbury. Is the psych rock era what attracted you there?
P: Absolutely. I learned a lot of the artists I was listening to got started in San Francisco, and specifically the counterculture music of the late sixties and early seventies was happening in the Haight Ashbury area. I went out there and visited, and I realized they lived there, they played there. I started researching about the different poetry and stuff that was happening in that area and how so much happened right there. Once I realized that was such a mecca for the time period that was inspiring me, I was like I have to have a store here. So I held out. I told some local real estate people that I wanted to have a store on the corner of Haight and Ashbury. And I told them, 'I'll wait 20 years if I have to'. I want that corner. Just because I wanted to have it, you know, with the sign and everything.
And I'm a huge Grateful Dead fan. They basically lived in a house across the street from my store. And Janis Joplin lived in the house like two doors down. I can see Janis's house and the Grateful Dead's house from my door. So anyway they called me up after about five years after I told them I wanted it. So I got it immediately. I signed a really long deal so no one can ever take it away. Having that store there is major for me because of my love for music.
J: You definitely didn't grow up in the 70s—how did you get so into the music and culture? Who shaped your understanding of that era?
P: It's funny because naturally, whenever I hear music from the seventies, I immediately love it. I just love that sound. Growing up my dad listened to a lot of the Eagles, and I love the Eagles so I think that introduced me a little bit. But I really kind of explored on my own. I mean I would go into a music store, and I would see a poster on the wall and I would be like 'I love that poster, what is that?' Then I would look up the band and realize I loved the band. It was always something from the seventies. That time period really just speaks to me.
It's just a different sound. And psychedelic rock and classic rock is something that I feel will always be relevant. I've noticed a lot of my younger employees—because everyone has to listen to vinyl because I only play vinyl in the stores. And I actually only play vinyl from that time period, so all of my staff is like 'what is this' at first, but then I really feel like they end up loving it.
J: They gotta get educated!
P: Right? So it's music I feel like everyone loves, no matter what age you are. You might not know about it, but ultimately you can't go wrong with Led Zeppelin and Jimmy Hendrix and even the Beatles. It's just timeless. I love that our stores kind of continue that time period because people come in and that's the music they hear.
J: Today is the anniversary of Tom Petty's death. The Heartbreakers' first album came out in 1976. Did it inspire you?
P: Tom Petty for sure is one of my all-time favorites. I had Tom Petty on in high school nonstop. And some of his songs definitely inspired my designs. He basically represents California lifestyle in a musician, and I think that obviously he would've loved the store. He's always had great style, super simple, lots of cool bell bottoms. He wore them his entire life. I definitely consider him a style icon, and his music is amazing. It's part of my growing up. Songs like American Girl, it's just classic. I really try to keep that alive.
J: Did you grow up around fashionable family members? You and your brother, who started TOM's, both ended up in the industry, which is so interesting. How did you guys get here?
P: Both of my grandmothers were pretty into fashion. My dad's mom was a seamstress, and she would make clothes. She actually had a little boutique. So I mean it wasn't like major fashion, but she definitely was sewing, and she actually taught me to sew when I was young. I stopped after I was a child. I went to school and kind of forgot about it. But once I got the sewing machine back, I realized wow, this kind of started with grandma. And then my mom's mom was just really into fashion. She loved clothes, she was always dressed to the T, in the best lookin outfit. We don't have like hardcore fashion industry experience, but I would say it's in the family for sure.
J: My grandmothers introduced me to velvet. They both wear it all the time, so I wear velvet all the time too. I was looking into your swimsuits, and the internet blew up over your velvet swimwear. Where'd you get that idea?
P: I love velvet everything. When I opened my first store, it just made sense to me to have red velvet curtains for the dressing room. It kind of feels like back stage at a rock concert. I became obsessed with velvet when I opened the first store. I was always looking for velvet furniture.
Anyways, I was working on the swimwear, and it was my first collection and so I wanted it to be really special. There's so much swim out there, it's hard. You really have to think ok what's going to make this different. It just hit me one day, I was looking at a velvet chair that I have, and I was like I love the texture, it's super soft. I wonder if we can do that in swimwear? It would just be so sexy. The thing is that I'm all about things being sexy too, even though they're comfortable. It's important to me. And I thought ya know what would be sexier than velvet swimwear? And if it's comfortable and soft, and we can make it work.
In velvet, there's a lot of polyester so it dries really fast and works well for swim. It's stretchy. When I put it into a swim suit and saw it, to me it was just rock n roll in a bikini. And I'm like if you can make a bikini rock n roll, then that's the way to go.
J: You've hosted a teepee for artists at ACL for the past six years. What's the coolest thing that's happened in there?
P: It was the second year I had the teepee. I always try to go out and see as much music as I can and then I come back to the teepee and hang out with the team and meet people. I heard a band playing and it just sounded awesome so I went, and I totally fell in love with this band Walk the Moon. At that point, Walk the Moon was barely getting started, no one knew who they were. I was so pumped on them, like you know when you see a band and you're like ah, I love that! So I was really stoked on that, and I went back to the teepee. A couple hours later Walk the Moon comes in. I was just so pumped to see them.
They ended up becoming really good friends. We're still friends now. It's just an awesome relationship. They've been back to ACL since, and they come to the teepee and jam out whenever we're there. It was so cool to have that experience and meeting a new band and them coming in and actually loving the clothes. They wore our stuff on their iTunes launch. They wear the clothes all the time. It was a really special thing for me to find out that someone I loved also loved Aviator Nation and for all that to happen.
It's funny because Nick from Walk the Moon has this big tom drum on the stage. It's actually the colors yellow, orange, red—the tequila sunrise Ludwig vista light drum from 1974. I'm a big collector of music stuff, and I was like that drum is epic. I ended up spending years trying to find the full set because it's really hard to find. And that set is going to be on our stage here in the store.
J: Wow that's awesome. Ok last question. Who are the top five artists you're excited to see at ACL?
P: That's hard. Ok I'm really excited about Phoenix. I'm pumped about Sylvan Esso. She's awesome. Have you ever seen her live?
J: We just saw her, she blew us away.
P: Obviously. Paul McCartney is epic. Oh! Wilderado. I'm super pumped—they're playing here [for the opening party]. And they're really good friends of mine, a couple of the guys in the band have actually worked for me in the early days. And Tyler, who's in the band, actually came out here and helped me build some shelves. So they're really good friends of the brand and they're playing playing 11 am Sunday at ACL. They're super awesome—highly recommend getting there a little early that day.