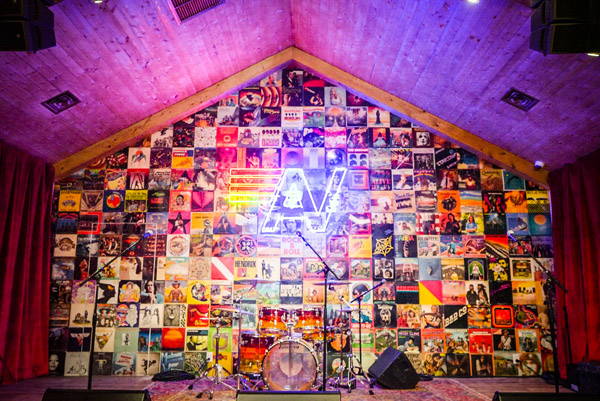 NATIVE TEXAN PAIGE MYCOSKIE IS HOME TO MAKE WAVES WITH HER LIFESTYLE BRAND
TEXAS NATIVE PAIGE MYCOSKIE is bringing her brand home. Mycoskie is the creative force responsible for Aviator Nation, a lifestyle company that recently opened its first Texas location right here in Austin. The brand was born in California from Mycoskie's love of the 1970s, especially the music of the decade. Items include sweatshirts, trucker hats, and even surfboards. We spoke to Mycoskie about Aviator Nation's ongoing relationship with the Austin City Limits Music Festival and the brand's new store on South Congress.
Avery Tanner: How did you decide to open a store in Austin?
Paige Mycoskie: I started going to ACL in 2012 and it was in that first year when I started to fall in love with Austin. I love the town. I love how it feels like a true community here. Everyone really takes care of each other and it's noticeable. I grew up in Arlington so I'm a Texas girl at heart. I knew that I had to come back to my roots and open a store in Texas.
AT: How did your partnership with ACL get started?
PM: I was actually trying to contact someone at ACL because I wanted to get involved in the event but nobody was responding to my emails. I was pretty much cold calling the C3 office. One day someone walked into my Venice store from C3 with my now good friend Shelby Meade. They both came in and asked to speak with me because they loved my store in Venice and thought it would be cool to get me involved in ACL fest.
AT: And what's your involvement with ACL??
PM: We sat down that day on my back patio in Venice and they said "Well Paige, what do you want to do with ACL?" Somewhere, out of nowhere, the idea of building a rad tee-pee for the artists to hang out in popped into my head. Luckily, they loved the idea and said "let's do it" right on the spot. I figured out how to get a real authentic tee-pee hand painted with a rainbow design that I had in my head and a few months later the Aviator Nation Tee-Pee was born.
AT: Can you tell me about the ACL shirts you design?
PM: That year, when I did the tee-pee, I also made some cool shirts with a special rainbow Texas graphic on them and I gave them to the artists. The artists liked the shirts so much they ended up wearing them around the festival. The following year, I launched the first Aviator Nation X ACL collaboration and we had several items in the official merchandise collection.
AT: What is your creative process like when designing products?
PM: I get most inspired when I'm out of my typical routine doing things I love in nature. I find myself getting inspired when I am hiking, mountain biking, snowboarding, scuba diving and surfing. When I am completely away from my email and my everyday responsibilities, the ideas really flood my mind.
AT: How does music inspire Aviator Nation?
PM: Music inspires Aviator Nation because it is my personal lifeline. Without music, I'm not sure where I would be. I like to think the music helps me feel and see things more clearly that perhaps are already there. Music is so powerful and full of magic.
AT: What was the design process like for the Austin store?
PM: I packed up my bags and moved to Austin on May 1st and it was only then, once I was in the space and alone with my notebook, that I started to visualize what I wanted this store to be. I knew I wanted the space to be set up perfectly for great musical performances so the stage became a center point for the design. Then, I designed and built the wood framed ceiling. Everything else sort of followed behind the ceiling and the stage.
AT: So what sets the Austin store apart from your other locations?
PM: The Austin store is a lot bigger than the other stores so it has more murals on the walls because we had a lot more wall space to work with. Typically, I find a building that already has the pitched ceiling shape but this time I had to turn a warehouse space into a cozy lake house vibe. I guess you could say it was the most challenging project because of that, but I love a good challenge so for me it was definitely the most fun store to conquer.
Aviator Nation is open for business at 1325 S. Congress Ave. Stay tuned for live concerts and events in the store.